Page Hero
2022 Annual Report
Building the Future of Hematology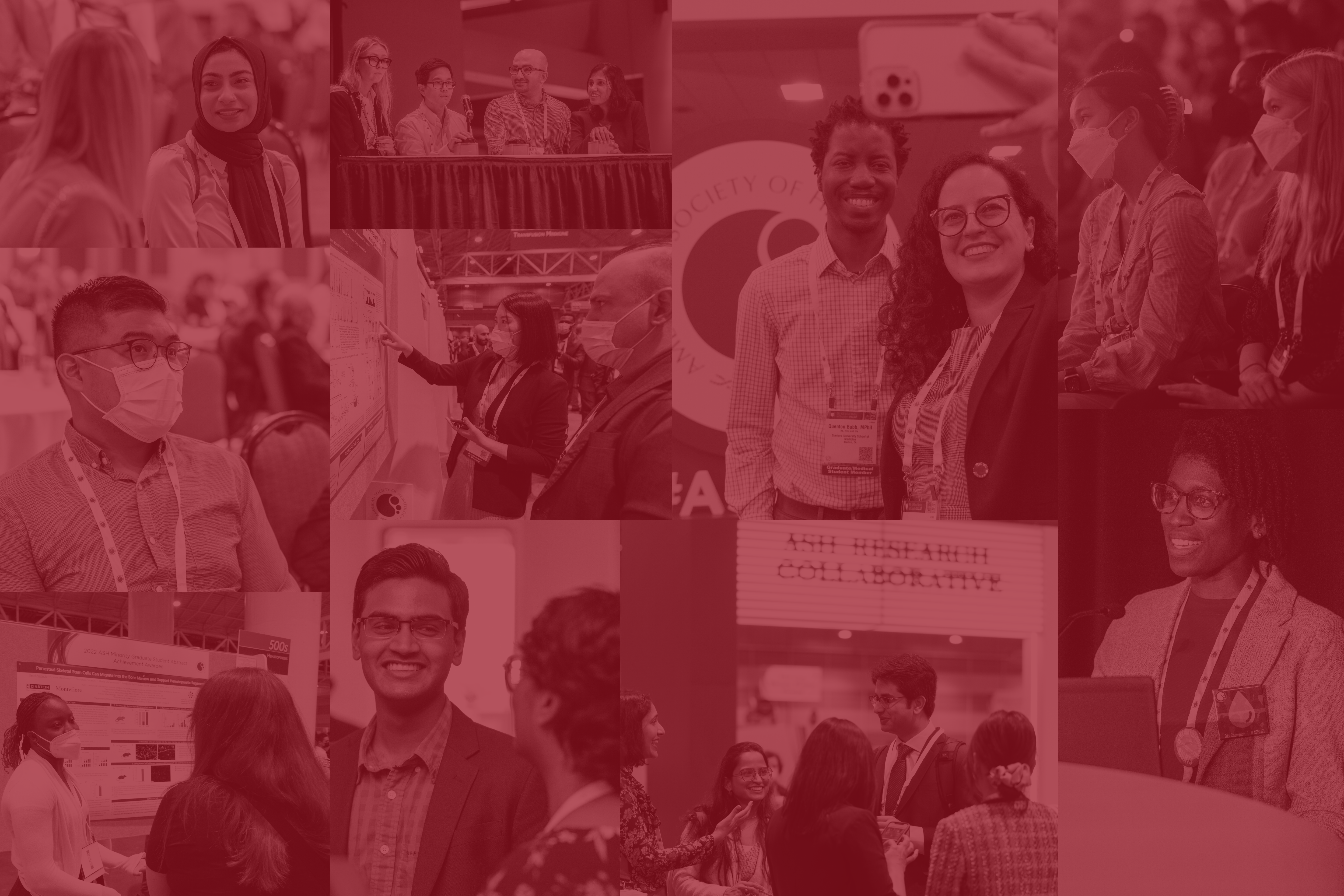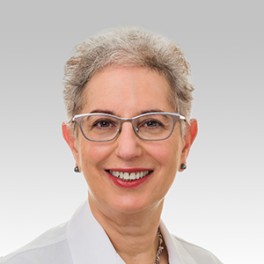 2022 was a year of celebrating the progress and promise of hematology.
ASH has always been committed to advancing the careers of the next generation of hematologists through awards, training opportunities, and career development programs. This year, we made an unprecedented investment in the future of the field by supporting the creation of 10 new hematology-focused fellowship tracks at nine academic institutions across the country. The demand for and interest in the programs was so great that four additional institutions were inspired to create new fellowship tracks of their own. This is a true testament to the appeal of hematology.
We also invested in hematology in a less tangible but equally important way, through the adoption of the term "classical hematology." Use of the terms "benign" or "non-malignant" hematology has done its practitioners and patients a disservice, either minimizing very real and often life-threatening blood conditions by calling them "benign," or defining the field by what it is not, as in the case of "non-malignant." Classical hematology fosters interest and recruitment by evoking the field's rich, centuries-long history of scientific advances that are so central to every aspect of medicine.
Indeed, one of the most rewarding things about hematology is its intersection with other medical specialties and its important role in our interconnected public health community. The connection between hematology and maternal health was brought to the forefront this year when the Supreme Court overturned Roe v. Wade. The ASH policy statement featured cases of hematologic conditions adversely affecting maternal health and served as the cornerstone for our ongoing advocacy and education efforts at the annual meeting and beyond.
Speaking of the annual meeting, there is no better way to showcase the progress we have made and the bright future we are facing in our field than this premier event. This year's meeting offered the latest scientific and clinical content to more than 30,000 attendees, most of whom participated in person in New Orleans. The liveliness of the meeting matched that of its host city, with conversations in the halls and session rooms ranging from beignets to B-cells, from jazz to JAK inhibitors, and from Cajun cuisine to CAR-T. We continued our focus on diversity, equity, and inclusion (DEI) through not only the maternal health sessions, but also through the Health Equity Studio and DEI sessions, and inaugural networking events for members from historically underrepresented communities.
Representation was key to the advances we made this year as we continued our longstanding leadership in sickle cell disease (SCD). The extraordinary work of the ASH-led Consortium on Newborn Screening in Africa (CONSA) in screening more than 70,000 newborns and providing early interventions for more than 250 babies diagnosed with SCD reminded us that ours is a mission that transcends borders. The launch of the Bringing Sickle Cell Disease to Life podcast commemorated the great progress we have made in SCD diagnosis and treatment, and also acknowledged just how far we have yet to go.
It has been an honor and privilege to serve as president of the Society during this remarkable year of progress and promise. I wish to thank all the members of our community for their support throughout the year, and I look forward to seeing the accomplishments in store for 2023 under the leadership of my able successor, Dr. Robert Brodsky.
– Jane N. Winter, MD, 2022 President of the American Society of Hematology (ASH)
ASH supports hematologists around the world by offering various research awards, training programs, and other resources designed to enhance knowledge, research, and expertise. In 2022, ASH made a substantial investment in the future of hematology by funding a set of hematology-focused fellowship tracks across the country to provide vital education, mentorship, and research opportunities for fellows interested in pursuing careers in hematology.
ASH investment through HFFTP
Total new hematology-focused fellowship slots by 2030
ASH Hematology-Focused Fellowship Training Program
This year ASH announced the institutions that were selected for the ASH Hematology-Focused Fellowship Training Program (HFFTP), an innovative initiative to address the critical need to expand the hematology workforce. ASH invested $19 million to launch 10 new hematology-focused fellowship tracks at nine academic institutions. As a result of ASH's groundbreaking investment, three institutions were inspired to launch additional hematology-focused fellowship programs. Altogether, institutions across the country aim to provide as many as 105 new hematology-focused fellowship slots by 2030.
ASH has been engaging with federal partners and policymakers about maternal health over the past several years. The Society accelerated its advocacy in response to the June 2022 Supreme Court decision, Dobbs v. Jackson Women's Health Organization, which overturned Roe v. Wade. ASH opposed the decision for interfering with the relationship between patients and providers and hindering patients' ability to seek necessary medical treatment. ASH worked to inform lawmakers and the voting public of the consequences of Dobbs, meeting with elected officials in Louisiana, offering special sessions at the annual meeting through the Grassroots Network and the ASH Working Group on Maternal Health in Hematology, and encouraging ASH members to advocate. This year, 134 ASH members took action to urge their officials to protect access to maternal health care by participating in the Society's action campaign; a total of 741 letters and 76 tweets were sent to federal and state legislators.
ASH stands steadfast in its long-standing commitment to build and nurture a global hematology community and workforce inclusive of diverse perspectives, talents, and experiences. This year, ASH continued to expand its diversity, equity, and inclusion (DEI) efforts and programs across the organization.
Minority Recruitment Initiative Awards Provided Since Inception
DEI-related Content and Sessions at the 2022 ASH Annual Meeting
ASH is a worldwide leader in promoting and supporting clinical and scientific hematology research through innovative programs and advocacy efforts. The ASH Agenda for Hematology Research, updated periodically and meant to be a living document, serves as a roadmap to prioritize research within the hematology field. In addition, the ASH Research Collaborative (ASH RC), established by ASH in 2018, continues to make important advances in fostering collaborative partnerships to accelerate progress in hematology.
ASH RC Data Hub
The ASH RC Data Hub is a platform capturing real-world data for research and clinical care to facilitate improved patient outcomes in blood disorders; the core programs of the Data Hub are in multiple myeloma (MM) and sickle cell disease (SCD). Since its inception, the Data Hub's SCD program has onboarded more than 40 sites that have contributed data from more than 16,000 patients. The Data Hub launched site-based data portals to monitor clinical practice outcomes and provided funding to sites to help with data integration. In 2022, the MM program began to enroll its first five sites, and launched a feasibility study to capture patient reported outcomes using direct-to-patients tools.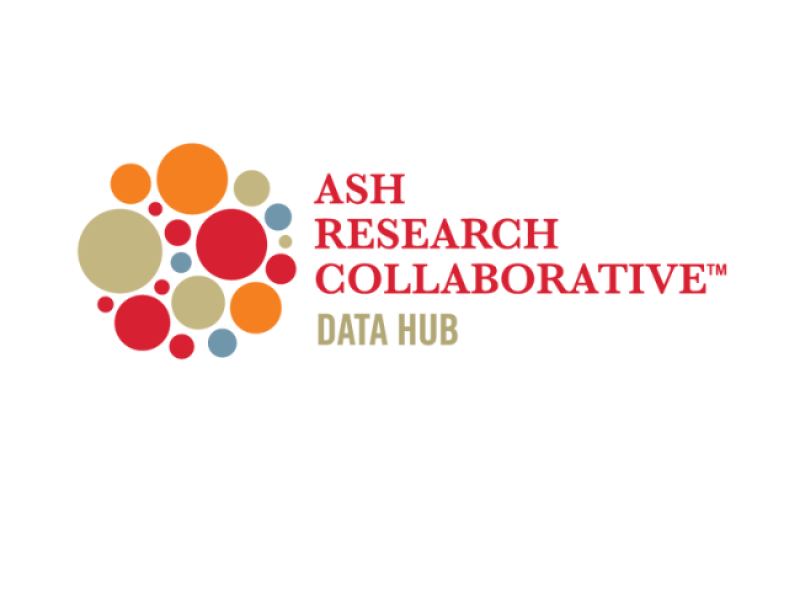 Sickle Cell Disease Clinical Trials Network
The ASH RC Sickle Cell Disease Clinical Trials Network has grown to comprise a network of 20 consortia across the United States, each comprised of research-ready clinical institutions led by experienced investigators committed to accelerating research in SCD. The Network is working to accelerate research in three ways: 1) partnering with industry to advise on clinical trial design and recruitment; 2) generating new evidence that supports high-quality care delivery; and 3) engaging with the SCD community to ensure they have a role and voice in the research process. In 2022, the ASH RC provided support for the development of local SCD community advisory boards (CABs) at each of the 20 SCD Clinical Trials Network consortia. The CAB program, which is designed to ensure communication between the SCD community and ASH RC about research, now includes more than 200 local CAB members, and a National CAB made up of representatives selected from each local CAB. In 2022, the Network launched its first partnerships with industry to provide scientific expert and SCD patient community protocol reviews, and to connect industry with Network clinical sites and investigators for trial execution.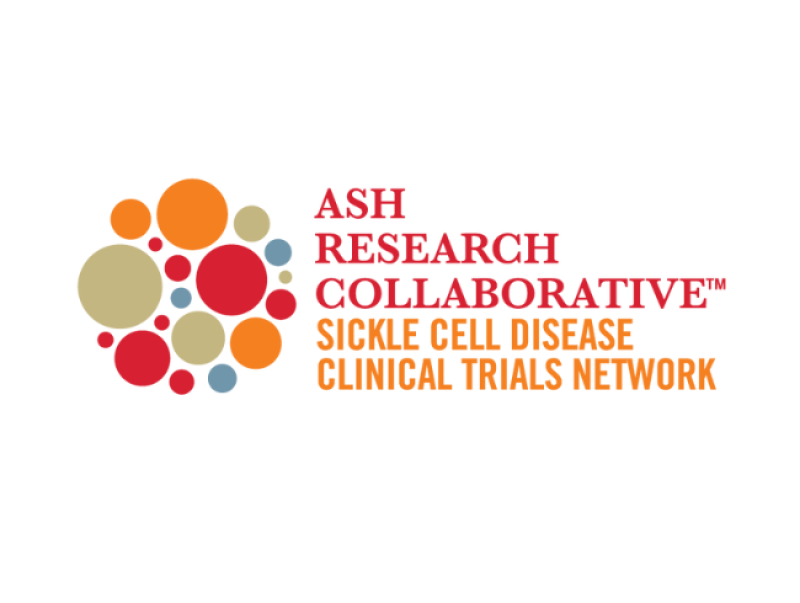 SCD Learning Community
The SCD Learning Community, a quality improvement program for pediatric and adult centers aiming to improve the life course and quality of life of individuals living with SCD, held its inaugural in-person meeting in September. More than 50 participants from 14 sites met and affirmed their shared commitment to improving the reliable use of disease-modifying therapies and pain management plans in SCD care.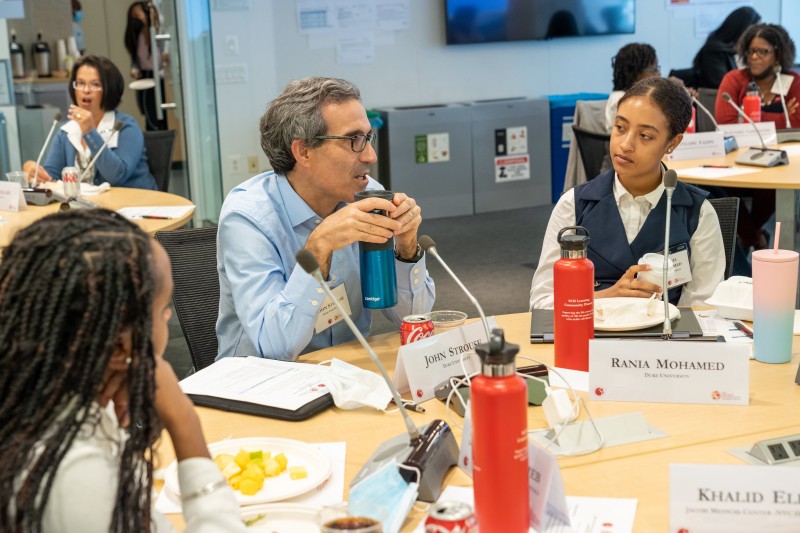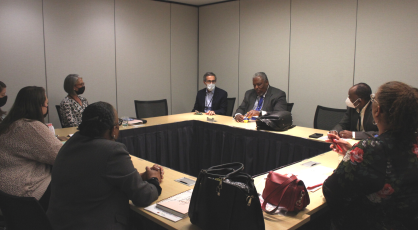 Sickle Cell Disease Coalition
In 2022, seven new member organizations joined the ASH-led Sickle Cell Disease Coalition, which aims to conquer sickle cell disease (SCD). The Coalition now represents 113 total members that have come together with an agenda to improve outcomes for individuals living with SCD.
Bringing Sickle Cell Disease to Life Podcast
ASH launched Bringing Sickle Cell Disease to Life, a podcast exploring the past, present, and future of sickle cell disease (SCD) and raising awareness of the challenges faced by millions living with the inherited blood disorder worldwide. Through conversations with researchers, physicians, and patients, led by host Dr. Wally Smith of Virginia Commonwealth University, listeners learned about the history of SCD, its global impact, disparities and bias in SCD, and promising news on its management and treatment. Across three seasons and 14 episodes, the podcast amassed more than 3,500 downloads.
ASH Annual Meeting and Exposition
The 64th ASH Annual Meeting and Exhibition was one of the largest and most comprehensive hybrid medical society meetings of 2022. More than 30,000 global registrants enjoyed the world-class content, of which 25,000 participated in-person in New Orleans. ASH established health and safety protocols that balanced safety with the ability to meet, network, learn, and participate in scientific exchange.
Total meeting attendees in 2022
Scientific abstracts presented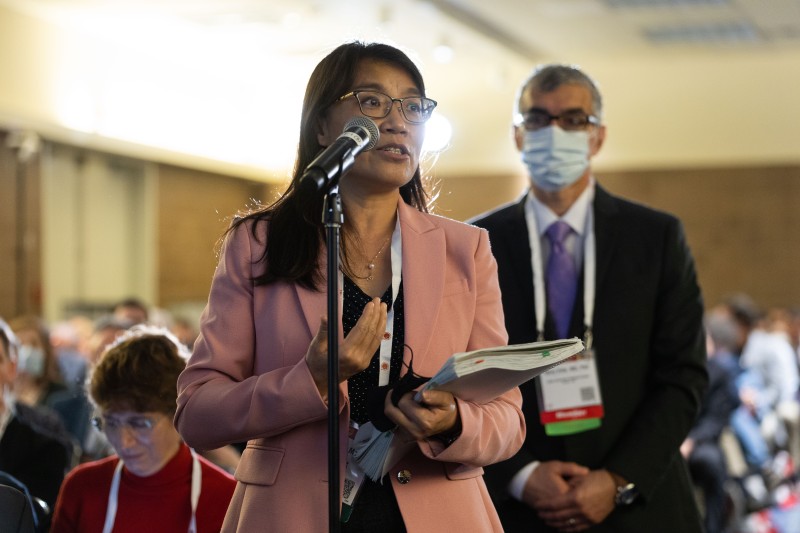 Meeting attendee asks a question during the ASH-SIE Abstract Achievement Award oral presentations.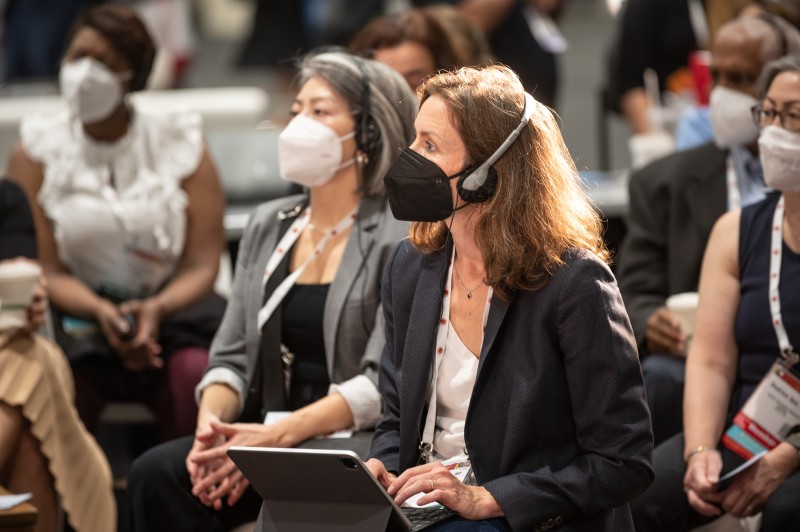 Attendees listen in to a session on cancer care disparities at the ASH Health Equity Studio.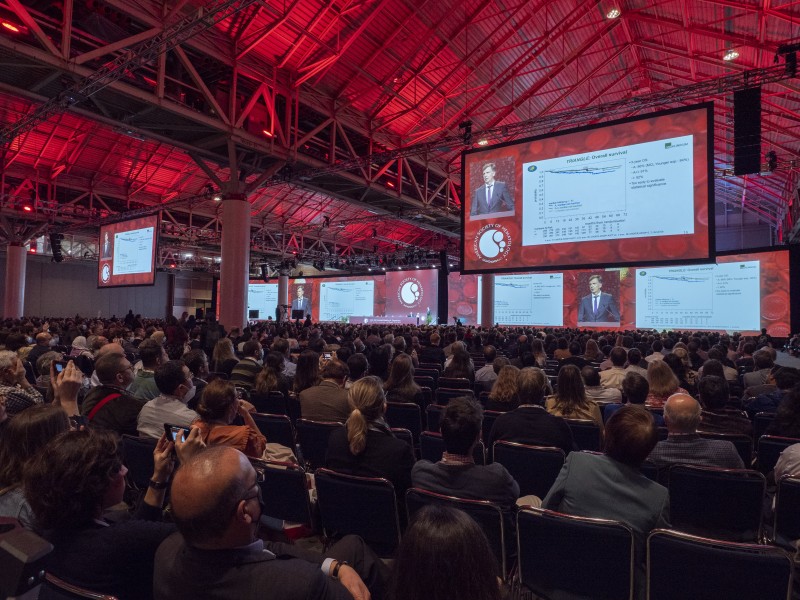 Thousands of attendees gather to hear Dr. Martin Dreyland speak during the Plenary Scientific Program.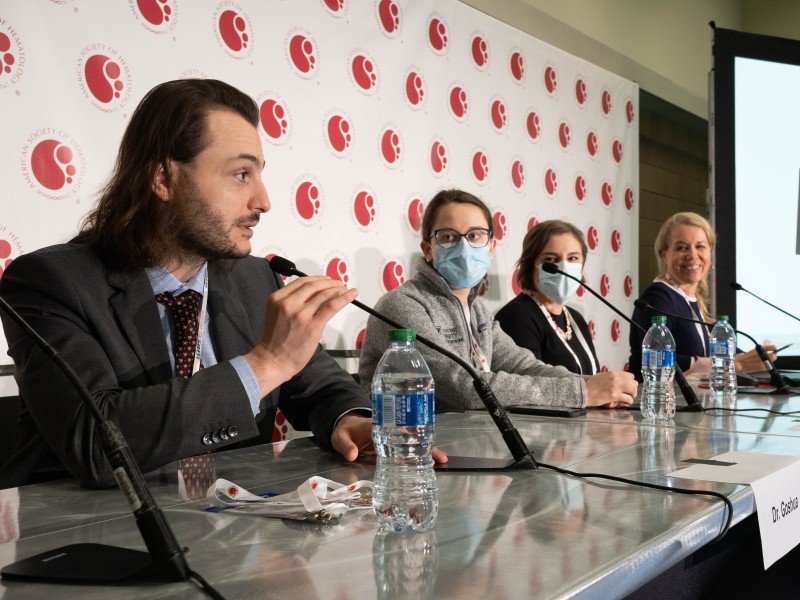 Dr. George Goshua addresses questions on pediatric care optimization during a press briefing.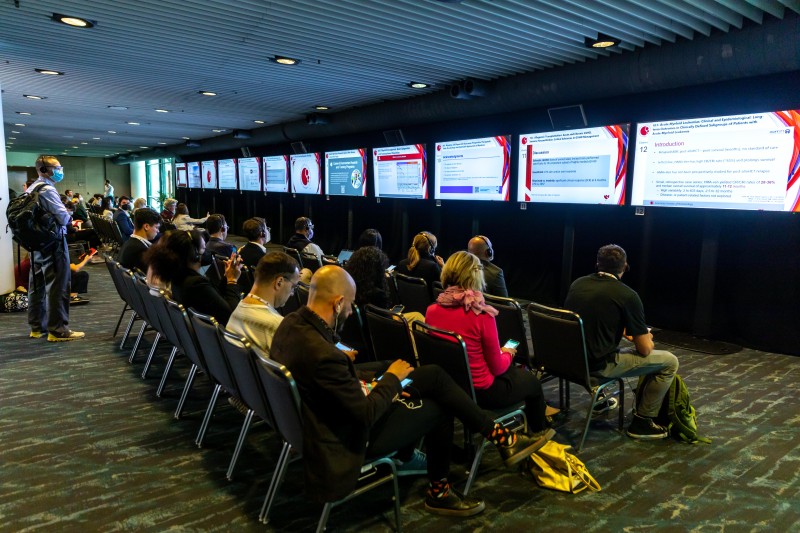 Attendees take advantage of virtual viewing rooms in New Orleans.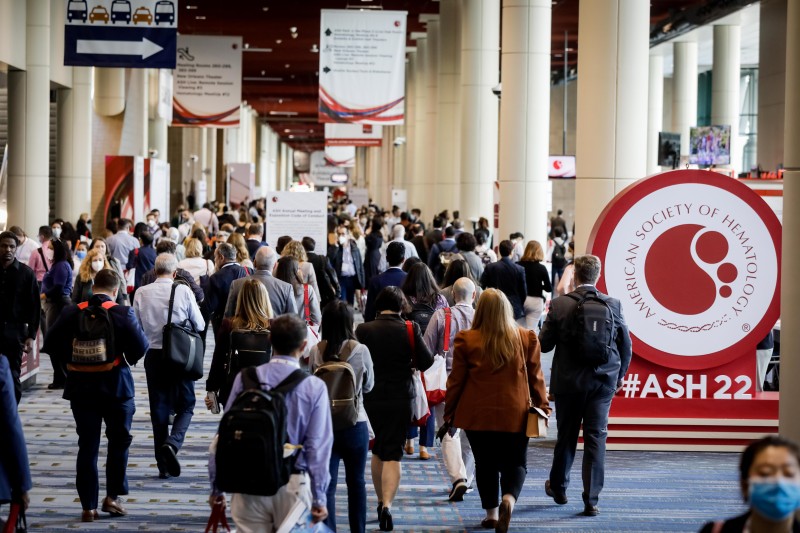 Attendees make their way through the convention center in New Orleans.
ASH continues to advocate for issues affecting hematology research and practice, including research and public health funding, access to quality care for patients, physician payment and coverage for hematologists, and policy issues related to sickle cell disease (SCD). This year also marked the return of an immersive advocacy program and the launch of new ASH-FDA collaborative workshop, both of which gave ASH members new opportunities to make their voices heard in support of hematology.
Meetings on Capitol Hill (virtual and in-person) in 2022
Grassroots Network Messages to Capitol Hill
Advocating for Sickle Cell Disease
For years, ASH has worked to educate members of Congress about the lack of quality care for individuals living with sickle cell disease (SCD). Since its 2021 introduction, the Sickle Cell Disease Comprehensive Care Act (H.R. 6216/S. 3389), which aims to improve access to care for SCD, gained 22 total cosponsors in the House and Senate. This growing show of support by members of Congress is a result of ASH's advocacy on several fronts in 2022: ASH Grassroots Network members wrote and called their legislators, the ASH Committee on Government Affairs met with nearly 30 congressional offices in March, ASH spearheaded a joint letter with more than 60 other organizations urging Congress to advance the bill, and more.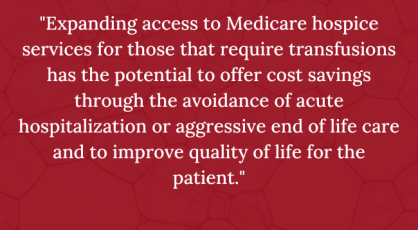 Palliative Care Legislation
ASH continued to educate policymakers on the lack of access to blood transfusions in hospice care and advocate for the Improving Access to Transfusion Care for Hospice Patients Act, S. 2566, which would establish a demonstration program to promote the provision of palliative blood transfusions for patients receiving the Medicare hospice benefit.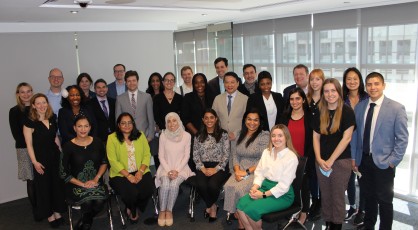 Advocacy Leadership Institute
After a two-year hiatus due to the pandemic, the ASH Advocacy Leadership Institute (ALI) returned in 2022. ALI is an intensive two-day advocacy program for ASH members; 25 participants, joined by several members of the ASH Committees on Government Affairs and Practice, spent the first day at ASH headquarters learning about the legislative process and health policy, and on the second day turned their knowledge into action in support of hematology by traveling to Capitol Hill to meet with lawmakers.
It really is a one-of-a-kind program that offers a great opportunity for any ASH member to learn more about how the legislative process really works, and how we as practitioners and researchers can make sure our voices and concerns are heard on behalf of our patients.
—
ALI Co-Chair Dr. Jennifer Holter Chakrabarty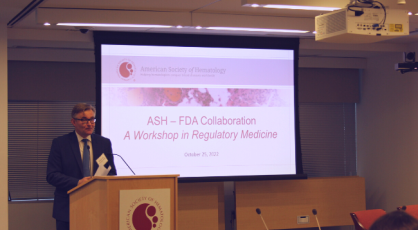 ASH-FDA Collaborative Workshop
In October 2022, ASH and the U.S. Food and Drug Administration (FDA) cohosted the inaugural ASH-FDA Collaboration: A Workshop on Regulatory Science in Hematology at ASH headquarters. This two-day meeting allowed ASH members to gain a better understanding of the FDA as well as insight into regulatory issues in hematology drug development. More than 50 FDA and ASH members engaged on such topics as clinical and translational research, trial design, and drug development. Based on the success of the workshop, ASH and the FDA plan to offer it again next year.
Statement on a Strong Blood Supply
ASH released a new policy Statement on a Strong Blood Supply, which supports steps to ensure a safe and adequate blood supply and to further encourage donations from all healthy people capable of donating.
As the world leader in hematology publications, ASH continues to uphold the highest standards for its publications, which cover the breadth of clinical and scientific research and education in the field of hematology. ASH publications – including two peer-reviewed academic journals Blood and Blood Advances, ASH Clinical News magazine, and The Hematologist member newsletter – play a monumental role in providing authoritative information and influencing practice. 
Dr. Michaelis has had a truly transformative impact on The Hematologist. I am honored to follow in her footsteps and strive to advance the momentum she and the previous editors have built with this publication and companion podcast. I'm looking forward to making The Hematologist a medium for our community to connect over and to encourage participation from underrepresented minority, female, and junior faculty hematologists.
—
Editor-in-Chief of The Hematologist Shaji Kumar, MD
ASH Self-Assessment Program (ASH-SAP), 8th Edition
The ASH-SAP, a comprehensive resource to keep hematologists up to date on the latest advances in adult and pediatric hematology, published its 8th Edition in August 2022. ASH-SAP offers self-directed learning and review with case studies, key points, graphics, animation, and a glossary. The 8th Edition features 25 fully updated chapters, 17 videos, and more than 250 new case-based, multiple-choice questions.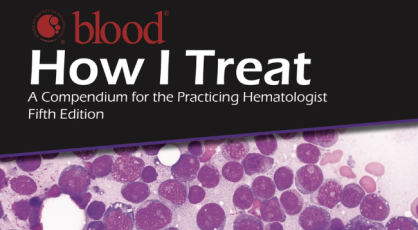 How I Treat
ASH published How I Treat 2022, a collection of the top "How I Treat" articles from Blood, many of which were updated to reflect the most recent scientific and clinically relevant information.
Fiscal year 2022 (July 2021-June 2022) was a year of investment for ASH. ASH funds went to support the ASH RC mission, in addition to continuing to expand existing efforts, fund new projects, and support ASH's overall mission of fostering high-quality, equitable care, transformative research, and innovative education to improve the lives of patients worldwide with blood and bone marrow disorders.
Audited Expenses in 2022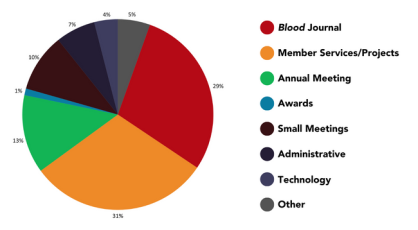 Operating Revenue in 2022
The ASH Foundation was created in 2012 to facilitate private philanthropic relationships with individual donors, foundations, and corporations that confer charitable grants. Thanks to generous donors, in 2022 the ASH Foundation provided additional resources to enhance and expand ASH programs dedicated to advancing hematology research, promoting career development and training, and making a global impact.
Disbursements in Fiscal Year 2022
ASH Foundation Donors in Fiscal Year 2022
Countries Represented by Donors in Fiscal Year 2022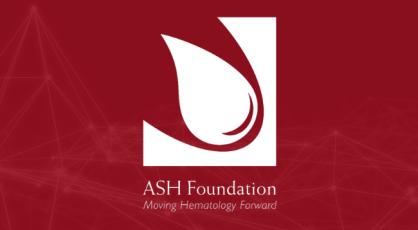 ASH Foundation Gifts in Action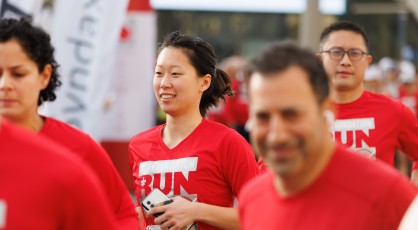 ASH Foundation Run/Walk 2022
The ASH Foundation Run/Walk set a record for number of participants (2,167) and doubled 2021's revenue. Proceeds from the 2022 ASH Foundation Run/Walk supported the ASH Global Programs Fund.